I have written before about the Focus Academy* by Blanc media. As well as an alumni, I'm a Pro Member, meaning that I pay money every month to access a range of resources.
I'm part of a small group, called Treehouse. We operate as a mastermind group, supporting each other and keeping ourselves accountable. Hollie (who has a very covetable treehouse), asked me to share a little more about my evolving Notecard system.
I'll drop some photos into the post for illustration.
Hardware
Oh yes. There are choices. Not all notecards are created equal. I use two distinct systems. Analog by Ugmonk and everyday blank cards.
Analog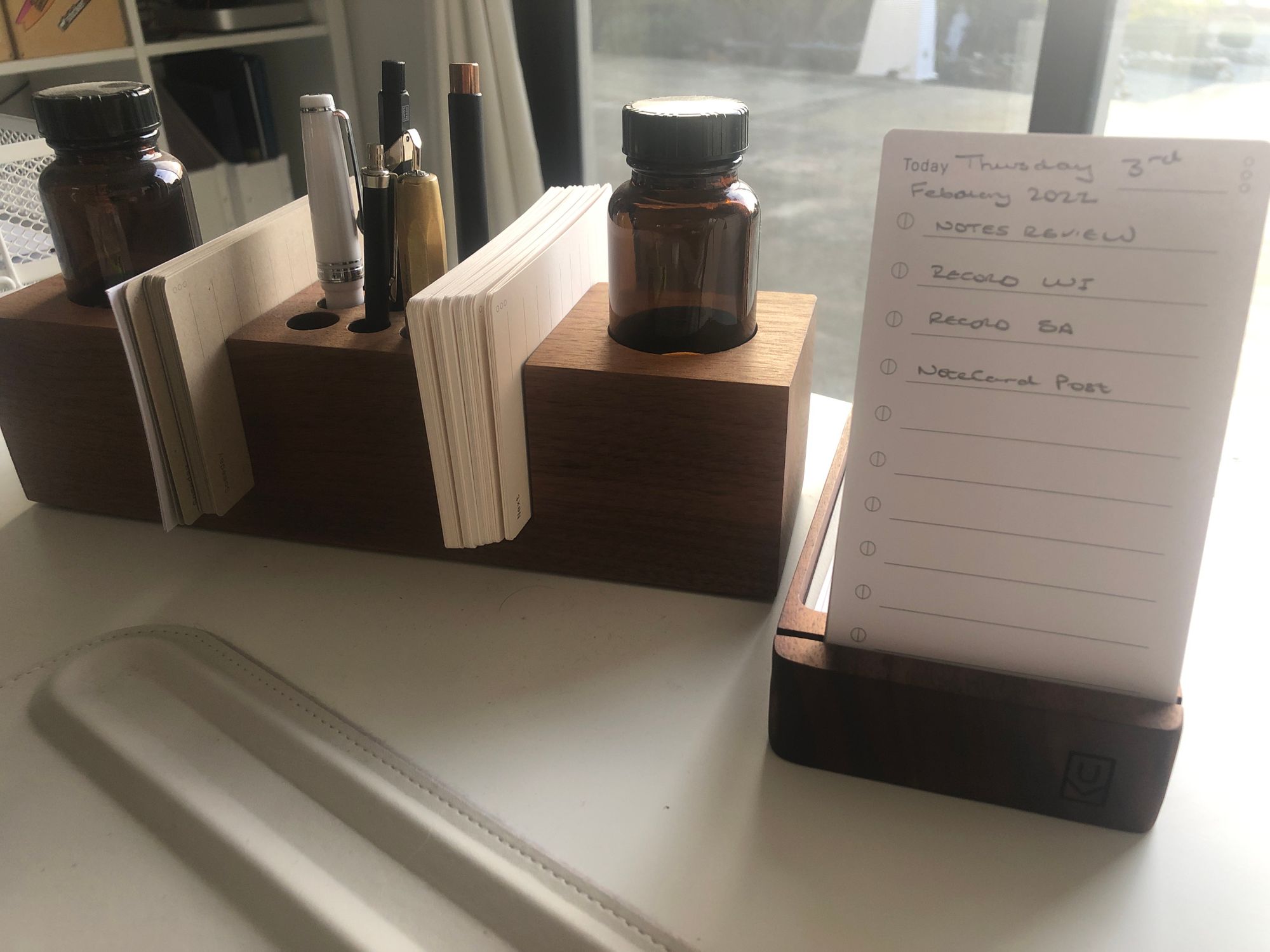 I have the cards and the desk card holder. I use the system much as it was designed. The "Today" card holds my tasks for the day. "Next" - those tasks coming, well, next and "Someday" for more distant, provisional tasks. The beauty of this is its simplicity. A maximum of ten tasks - right in my face. All day. I only write key tasks here. On average, four or five. At the end of the day, I review the card, and start one for the next day. The old cards become "blanks" on the other side, and are preserved until the end of the week, when after my review, they end up in recycling.
Blank
As well as the reverse of the analog cards, I use Exacompta from Clairefontaine, and Baron Fig make some crackers too. These are my Swiss Army knife.
Aide-memoirs. I have a lovely desk mat, which has two layers. I struggle to remember newer TextExpander shortcuts. So I have an index card of them at my left hand, between the layers. At my righthand is my windows password for a corporate server. I would store it in a password manager, but the idiotic IT policy won't allow me to copy/paste or autofill, and forces a strong password which must change monthly.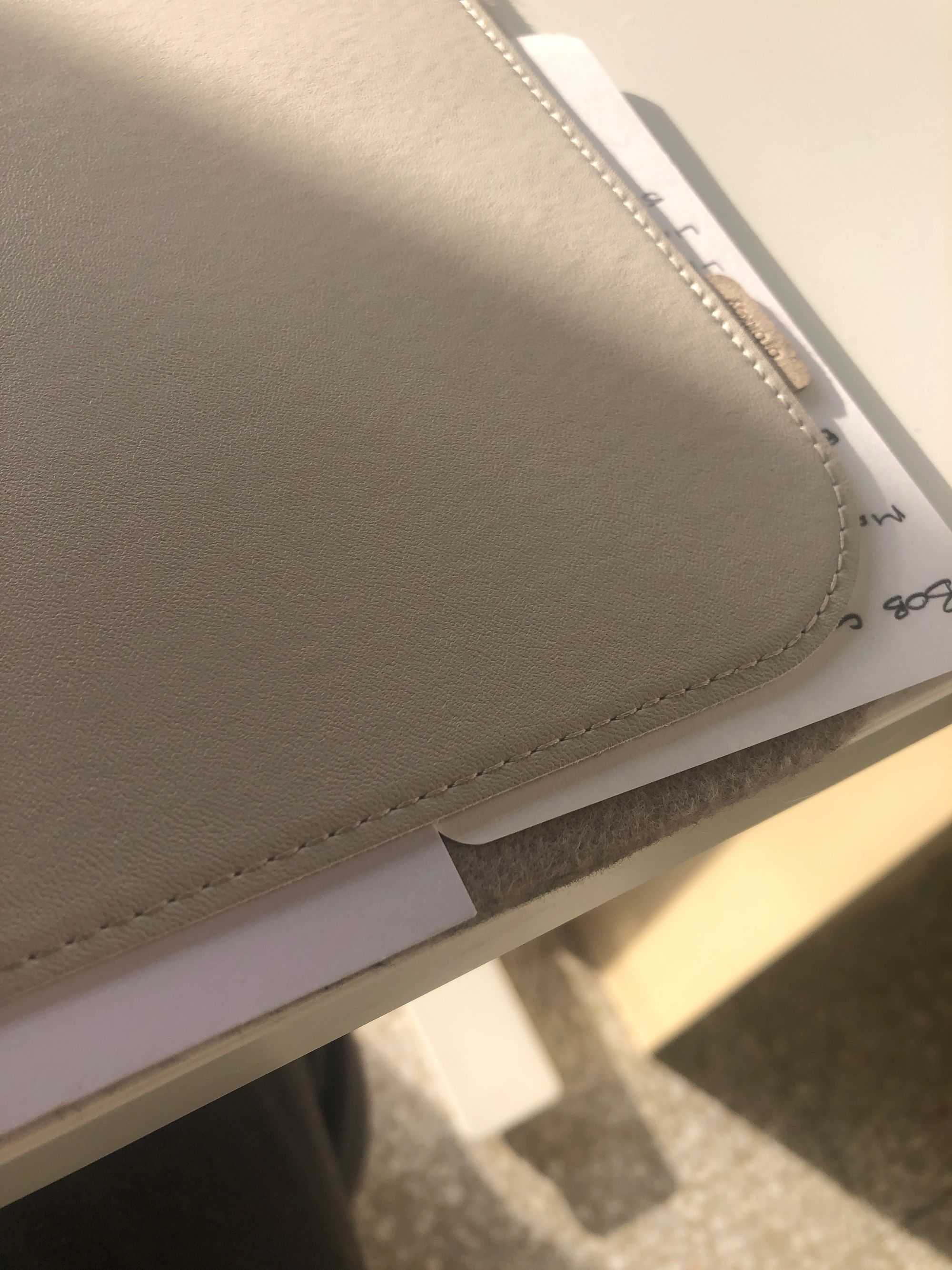 General Notes. For, umm...general notes.
Guide Cards. I theme my days (thanks to Mike Vardy). I have a theme (and a card) for each day. I write the day, the theme and any fixed elements of that day.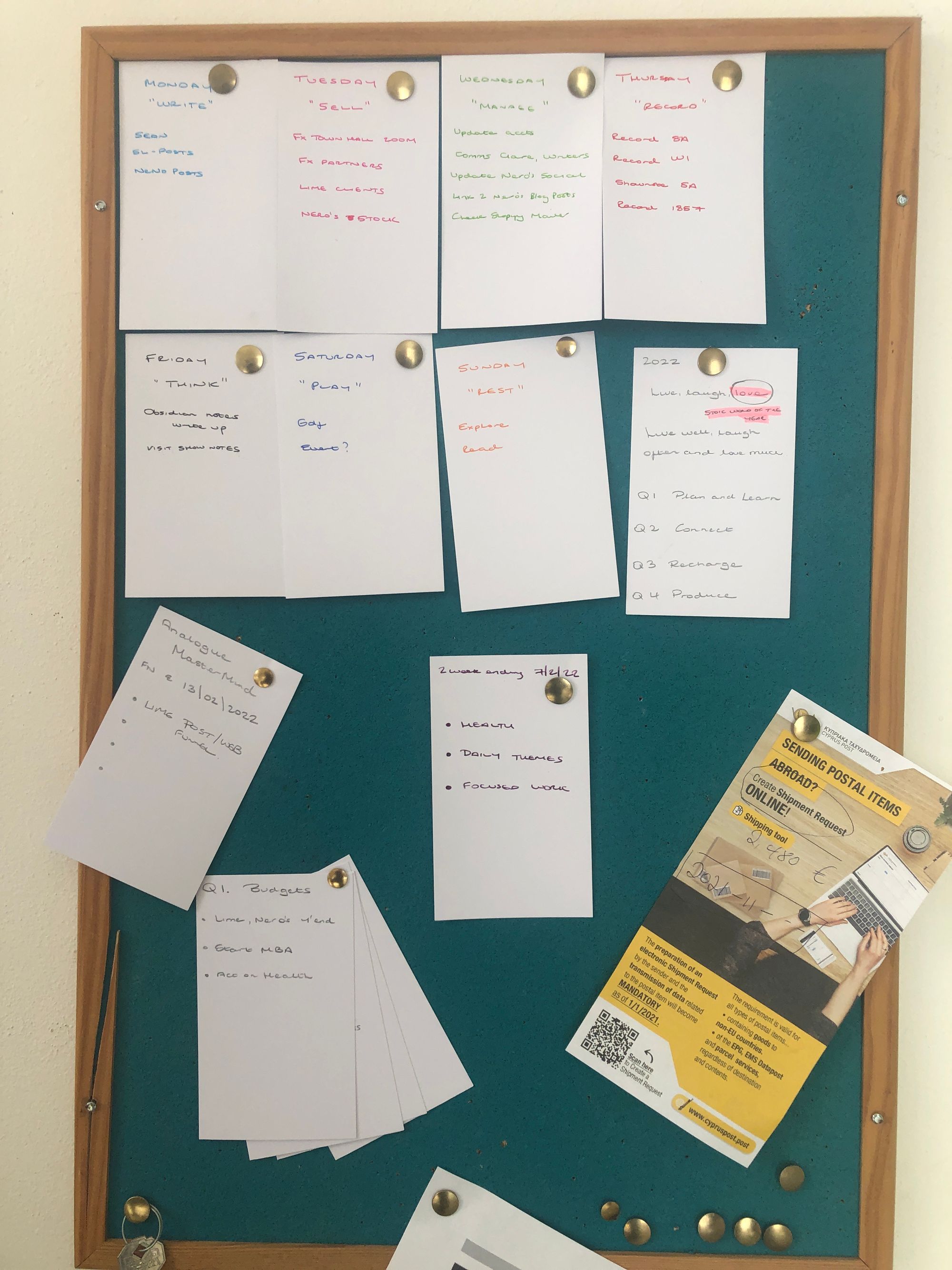 Monday - Write. - Sean. SL Posts. NeNo Posts.
Tuesday - Sell. - FX Town Hall. FX Partners. Lime Clients, Nero's Stocks.
Wednesday - Manage. - Update accounts, Meetings Clare & Writers, update Nero's social queues, check mailer.
Thursday - Record. - Record Stationery Adjacent. Record Writer Interrupted. Shownote Stationery Adjacent. Record 1857.
Friday - Think. - Write up Obsidian Notes. Visit show notes.
Saturday - Play. - Golf. Out.
Sunday - Rest. - Explore. Read.
Seven days, seven cards.
Having these beside my desk helps me cement what my intention is for that day.
Through a combination of the Focus Academy and other methods, I have an annual theme and quarterly ones too. Surprise, surprise, there's a card for this too.
Each quarter also has its own card. Pinned as a fan on the board, with the current quarter on top.
Q1 is Plan and Learn. Beneath the title is written:
Lime, NeNo Year-end.
Start MBA
Act on Health
(Lime is my consultancy business, NeNo is shorthand for Nero's Notes)
The other quarters carry on in the same vein.
Finally, I participate in two mastermind groups. Attending each once every two weeks. I have a card for each, that has my focus written on it, and may get added to during the fortnight, if there's something I want to take to the group. (Often from my Think day.)
That's it.
Oh - and there's a pamphlet on how to post a parcel from Cyprus. Go figure.
Reality
Of course, life doesn't adhere to my schedule as much as I'd like. So - I'm writing this on Thursday morning, when I'd normally be golfing. I'm golfing tomorrow instead, meaning that today is my thinking day. But I'm writing, you cry!
Isn't writing just thinking on paper?
My writing is supported by people like you. You can become a member of the site here. Members access the serialisation of my first novel draft, and give comments to me in a member's Slack. They also get a free electronic copy of anything that I publish during their membership. Sign up - help me move writing from a side-project to a main project.
-* This is an affiliate link, meaning that if you sign up for the Focus Academy, I will receive a commission from Blanc Media.