In the early hours of Friday morning, I will set off on the fifth stage of the Camino de Santiago (Camino Francés). Unlike the pilgrims of old, I'll begin by driving a SUV to the airport. By a variety of modern means of transport, On Saturday afternoon, Stu (my best friend and walking companion) and I will arrive at O Cebreiro on the edge of the Galician Massif, where we finished our last walk together in 2019.
O Cebreiro is at 1,300 meters, the third highest point on the traditional route of the Francés. I'd love to say that it's all downhill to Santiago, and in aggregate, it is; Santiago is at 260 meters. However, this isn't my first rodeo, camino-wise, and I can guarantee you there are still some climbs to come. Rural Spain, as the rest of the Europe, has a violent history. Consequently, people built their strongholds on hilltops for their defensive advantages, and everyone else built their houses around the stronghold. Therefore, more often than not, as Stu and Stu approach the end of the day, there's a bloody great hill between them and a bed.
The plan is as follows:
Friday - Travel to Santiago de Compostela
Saturday - Travel from Santiago to O Cebreiro
Now - it's worth nothing that Stu and I have not seen each other for a while and are seldom allowed out without adult supervision. I can also confirm that Spain is admirably served with restaurants and bars. Perhaps we'll call it "carb-loading." Coincidentally, there's a rugby World Cup semi-final on each evening. What could possibly go wrong?
Back on task.
Sunday - O Cebreiro to Pintin. 33km.
Monday - To Portomarin. 29km.
Tuesday - To O Coto. 33km.
Wednesday - To Salceda. 32km.
Thursday - To Santiago. 28km.
Friday - Homeward bound.
All being well, we will have walked 155km and completed the Francés - 776 km over 29 walking days, averaging 27km per day. This doesn't include the infamous river path of Pamplona, but that's a tale for another day. 5 years has become 8, but that's pandemics for you.
I will probably post the odd update on Instagram @nerosnotes, but generally I ignore my device as much as possible on camino.
Sunday looks a fun walk, until about 22km in we have a steep climb for a few clicks which will test the thighs after a few years off hiking.
The Routine.
Look, some people are interested, OK?
#protip. Galicia is the only place in Europe wetter than Ireland. The forecast currently shows a rich variation of weather from "very cold and wet" through "cold and wet" to "warm and wet".
There are people who believe that modern technology can completely exclude the weather. And it can. If it's made of bricks or metal. If you are going to go walking in the rain, you will get wet. The sooner one accepts that, the easier life becomes. The trick is to keep the most important bits dry while accepting moisture elsewhere.
The Important Bits
The clothes you are NOT wearing.
The guidebook
The electric bits (chargers and the like.)
The Unimportant Bits
Everything else
So - on Sunday, I'll set out in:
Shoes, socks, boxers, shorts, t-shirt, mid-layer, wet layer, chest torch, beanie, cap, and gloves. The guide book and pilgrim passport will be in a sealed bag in the pocket of my wet layer.
In my pack will be another set of clothes, my flip flops, wash kit, electrics and documents. Everything will be in sealed wet bags. The pack will be covered by a rain cover. The trick of managing rain is to try to leave the bag well alone until the day is done. If it's opened, then discipline is required to make sure that all the layers are properly resealed. Buddies need to look after each other here.
If you're interested, my pack weighs a shade less than 4 kg. Camino 1, my pack was 5.2 kg. The more you walk, the less you need. I'll write about that in another post.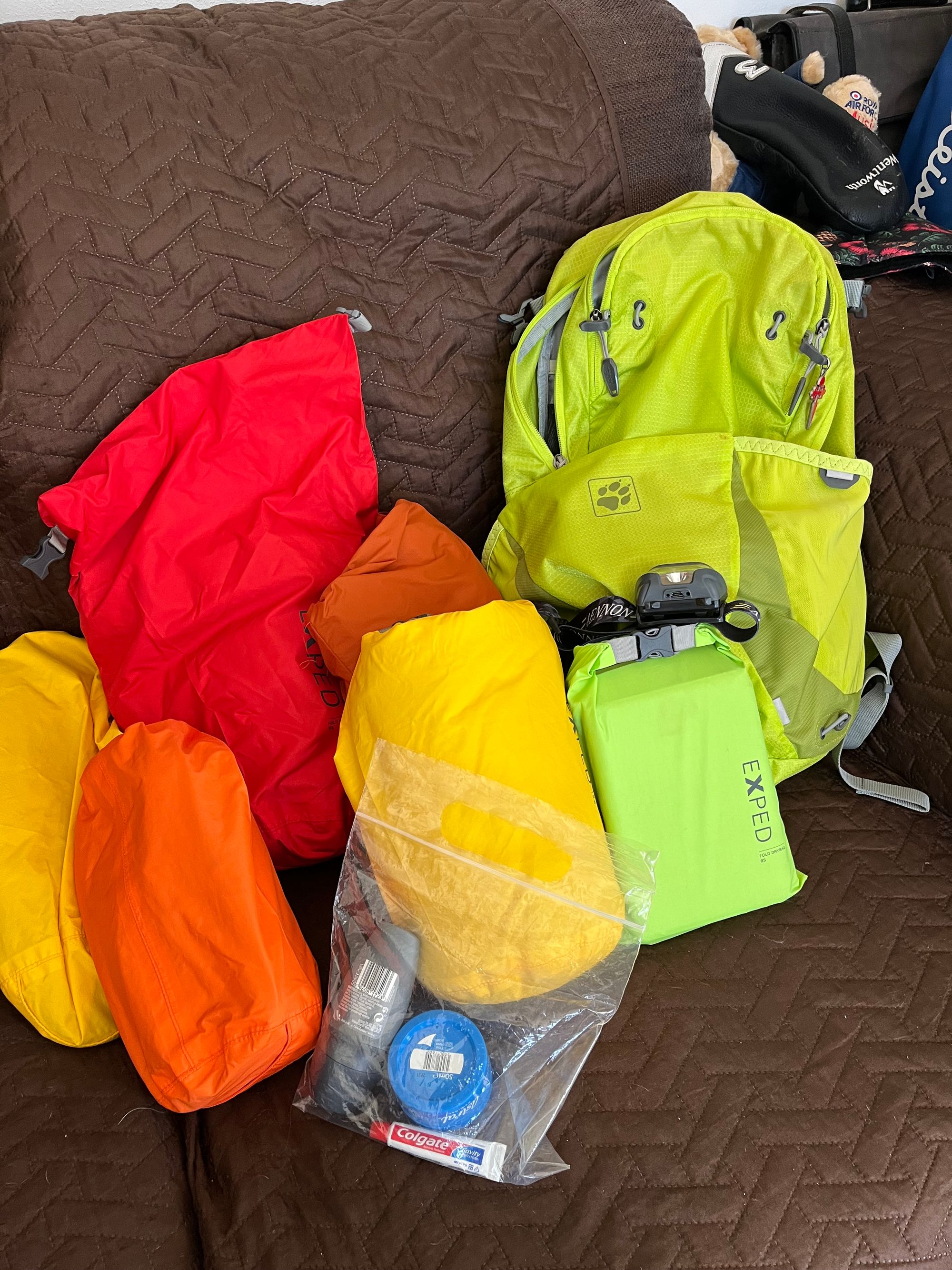 Shoes. It's possible to get waterproof shoes. Trouble is, I find that water always finds a way in - through the socks for example. So you need to start wearing puttees, and on and on it goes. With my "breathable" shoes, the heat coming off my feet evaporates the water. In waterproof shoes, the water stays in. Breathable shoes also dry out faster.
When we reach day's end, we'll unpack the packs, take off the wet kit, shower and put on the (hopefully) dry kit and find somewhere to wash the wet kit. We'll schedule personal admin - foot care, comms home and the like while we wait for the washing / drying. We'll try to scrounge some newspaper to dry the shoes out overnight. Often the place we're staying will look after drying the laundry for us, allowing us to head out, (unencumbered by packs) for dinner. We're dressed exactly as for walking but for our feet, which need a break from walking shoes.
We've pre-booked our accommodation, so we're able to walk at our own pace without the worry of finding a bed at the end of the day, so our only concerns are getting the kit refreshed and finding a decent wine list.
My writing is supported by people like you. You can become a member of the site here. Members access the serialisation of my first novel draft, and give comments to me in a member's Slack. They also get a free electronic copy of anything that I publish during their membership. Sign up - help me move writing from a side-project to a main project.